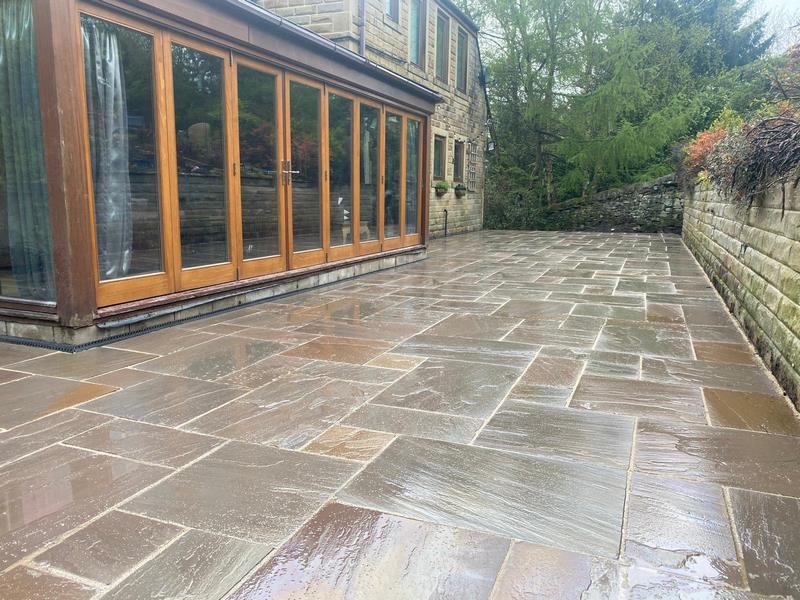 A customer in Burnley, Lancashire recently contacted the team here at Stonemade Drives wanting to replace their old, worn out decking area with a brand new patio. After looking at lots of different samples, and exploring our extensive portfolio of completed projects across Burnley and the wider Lancashire region, the customer opted for sandstone for their large new patio.
A stunning natural stone option, sandstone is both hard wearing, durable and looks great too. As well as the aesthetics and functionality, a sandstone patio will also add value to any property as it oozes class and quality.
Our team began by ripping up the existing decking which ran the whole length of the back of the property. After we cleared all of the debris, we levelled off the area, bringing the lower sections up to the desired height and filling with a sub base. We then used a compactor to flatten the surface until we achieved the correct thickness.
Once the process was complete, our experienced landscapers began laying the gorgeous sandstone paving slabs. Opting for a variety of sizes to create a truly unique appearance, the sandstone patio soon took shape and complemented the property wonderfully. When the patio was complete, the customer was over the moon with their new outside space and cannot wait to enjoy the newly transformed area this Summer.