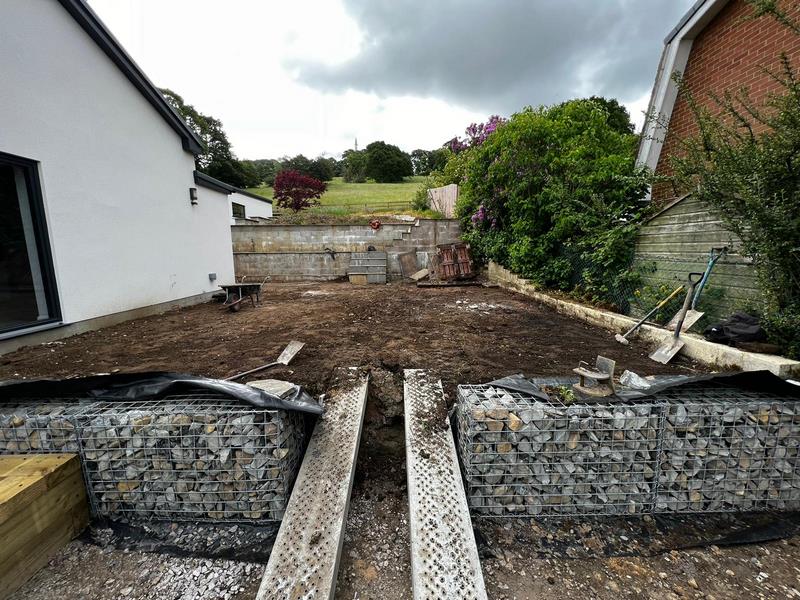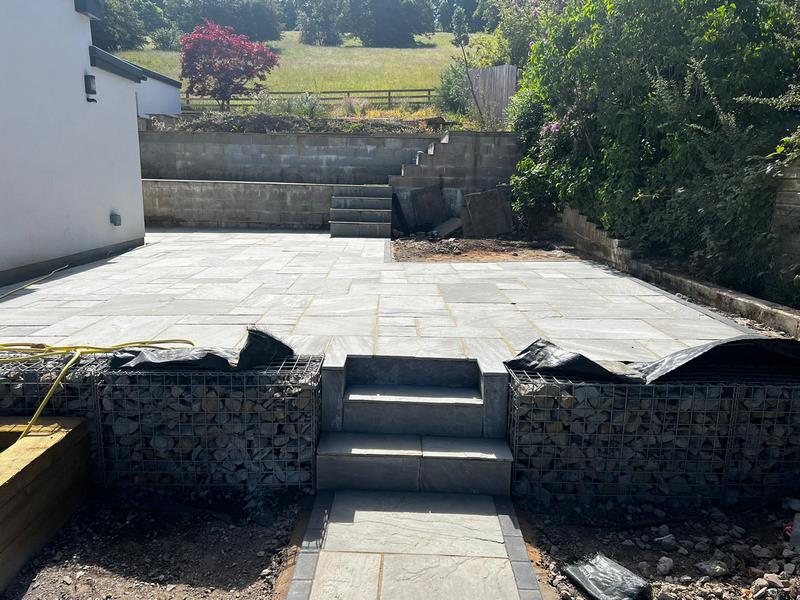 Sandstone Patio with Railway Sleeper Flower Bed
Even the most durable of surfaces will eventually succumb to the elements. From asphalt and concrete to (in this case) paving stones, updates are required from time to time. This was the primary reason why Stone Made Drives was recently contacted by a customer. After an on-site assessment, it became clear that the existing surfaces required a major overhaul. These included a patio, an attached walkway and a raised flower bed. So, how did we approach this project?
All About Planning and Preparation
This job required a fair amount of preparatory work that mainly involved removing old materials and ensuring that all surfaces were levelled. Otherwise, subsidence and drainage could present issues in the future. Due to the size of the existing slabs as well as the amount of debris, manual labour was used alongside a mini digger. This made quick work out of what could have been a time-consuming undertaking.
The Functional Beauty of Indian Sandstone
There are several reasons why Indian sandstone was selected. Some of the most relevant include:
Sandstone is porous; allowing water to drain during periods of heavy rain.
The slabs are easy to cut and install.
This stone is a cost-effective material for patios and walkways.
Sandstone is extremely durable.
So, we placed slabs of varying sizes atop the patio area as well as a walkway that was present on one side of the house. Our team also added a series of steps in order to accommodate for the height of the patio when compared to the front of the garden. As the total area addressed was relatively large, it made a massive impact upon the appearance of the property.
Giving the Patio a New Lease on Life
Flower beds represent excellent ways to imbue a patio with a sense of life and a decidedly organic flavour. In this case, we used a border of wooden sleeper rails to raise the height of the garden so that it was virtually level with the new patio. Not only did this help to compliment the stones themselves, but it provided a welcome departure from the norm in terms of aesthetics.
Why Work with Stone Made Drives?
Here are some other perks which customers can enjoy:
A standard 14-day "cooling off" period.
No hidden fees or charges.
Free consultations.
Five-year warranties on all projects.
Stone Made Drives was happy with the outcome of this project and once again, we helped yet another homeowner transform the appearance of their property. Do you have a similar vision in mind? Would you like to discuss your options in greater detail before making a final decision? Why not find out more by contacting us today? We will be more than happy to explain your options in greater detail.