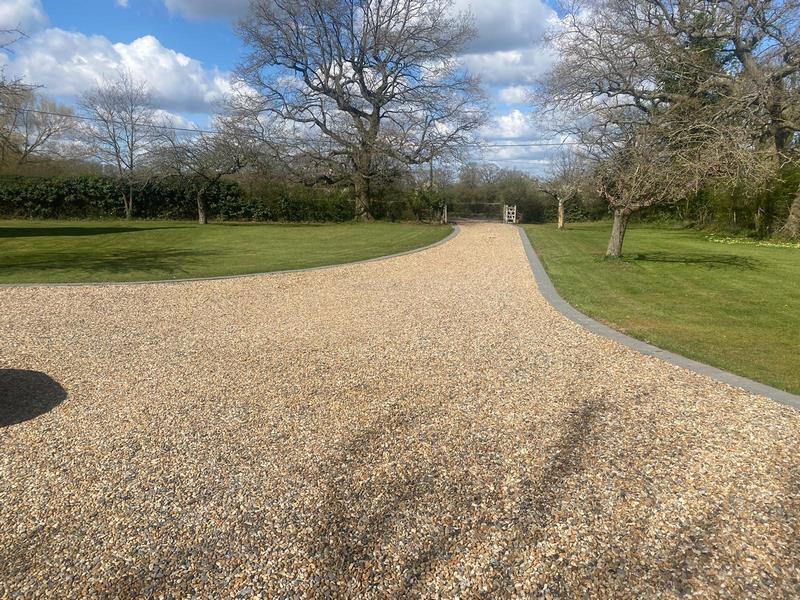 Project Overview: Gravel Driveway with charcoal border edging, driveway with aged effect paving with a charcoal border paving cross the front of the garage and a Patio area.
This executive property with large open driveway in the countryside had a very tired / old gravel driveway that was over 15 years old and due to the fact it didnt have any border it had almost disintergrated. We rebuild this gravel driveway with a block paving border to ensure it would last many years and not disintergrate like the previously driveway.
The gravel driveway allowed us to implement a cost-effective large driveway in keeping with the property and surrounding area in a very quick amount of time, the preparation of the area was key to ensuring the driveway was not going to dip or sag with the new gravel covering, both householder and groundwork team were delighted with the results.
The wide charcoal border block paving allows the gravel driveway to remain in place and gives it a striking edge set against the landscaped grass. as you can see from the video the 30m driveway leads right up to the property were we build some block paving outside the garages, if you have a long driveway in the countryside in Lancashire and want us to build you a gravel driveway anywhere in Lancashire please gives us an email / call.