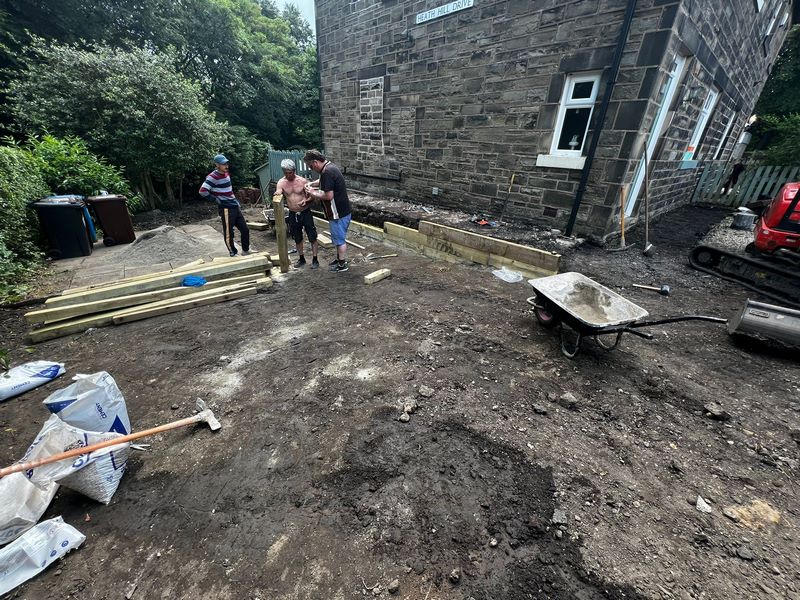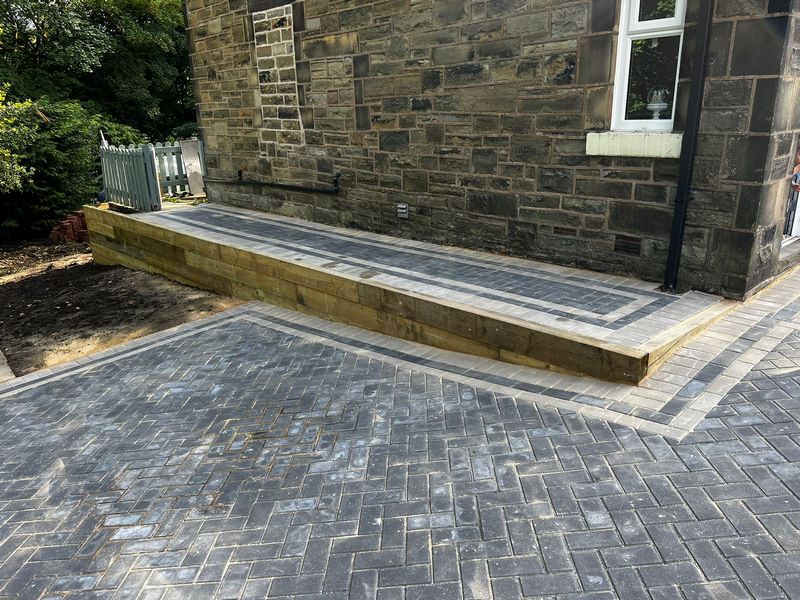 Block Paving, Driveway and Wooden Retaining Wall Path
There are many instances when the team at Stone Made Drives is contacted in order to complete a one-off task. However, a handful of situations dictate that we must work on several projects simultaneously. This is somewhat challenging and yet, the final results are well worth the initial effort. What can clients expect when dealing with our professionals? Perhaps the best way to answer this question is to take a quick look at a recent renovation that involved multiple improvements.
Assessing the Job
We were initially contacted by a client who wished to transform the appearance and functionality of an existing garden. We were more than happy to help and scheduled an on-site consultation. It was decided that three areas needed to be improved:
The front patio area
The driveway
A side walkway
It was also during this phase that block paving stones would be used for the finished surface. These stones are stunning to behold, they are available in a wide array of tones and in this case, they could be seamlessly tied together with the exterior of the home.
Getting to Work
Stone Made Drives appreciates the importance of preparation when tackling any project. In fact, this is one of the many reasons why we offer five-year warranties on all of our workmanship. In the case of this job, we first needed to remove a considerable amount of existing material (such as old paving slabs and overgrown vegetation). We were then able to grade and level the surfaces that would be adorned with block paving stones. Such an approach helps to ensure a solid foundation while addressing possible drainage issues. As you might have already imagined, the number of areas that required an upgrade signified that a fair amount of time was spent on preparation.
A Truly Stunning Facelift
We utilised a unique herringbone pattern when finishing the driveway and front patio area. This was then surrounded by border of what paving stones. As the side walkway was slightly raised off of the ground, it was likewise necessary to use wooden retaining wall to guarantee stability as well as a level surface. Furthermore, the wood added a nice organic touch to the nearby areas.
What at one time could have been considered a rather drab and generic garden was transformed into a veritable work of art through the use of block paving stones. As always, the property owner was ecstatic with the final results. We were just as pleased and this is only one example of what our team is able to accomplish. To learn more or to schedule a free consultation, please take a moment to contact Stone Made Drives.