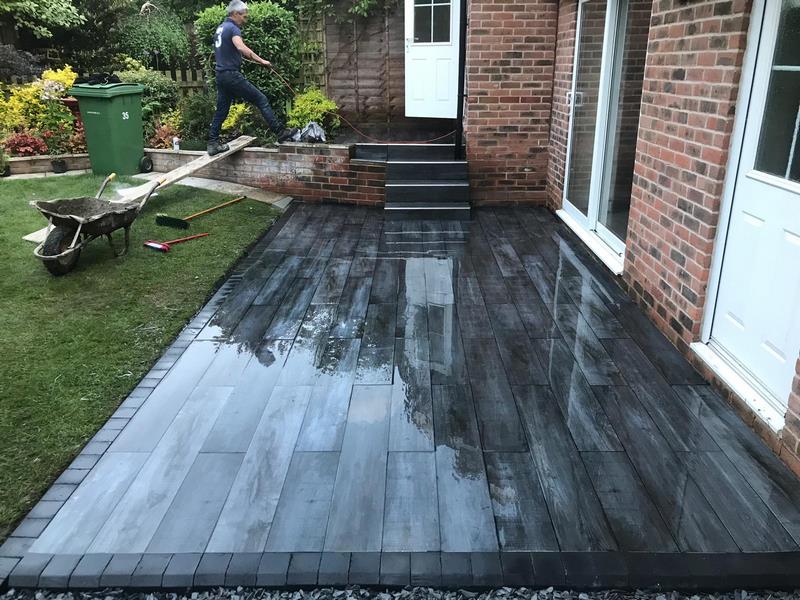 This Marbled Tiled Patio project was carried out by Stone made Drives. We completed it in the time frame given.
Our qualified pavers were asked to install a lovely new patio using marble tiles. The property had a garage  built onto it so it had three steps leading up to this. Our clients wanted these to stay, so the obvious solution was to cover the steps using the exact same tiles.
We started by measuring out the area that was to be paved. We then dug this out using shovels and a mini digger. This area was then split into 5 sections. Each section was filled with hardcore and then levelled out. Another layer of sand was laid on top of this and again levelled out leaving a flat surface.  Cement was then applied to the whole area. This was used to make the base.
We also needed to apply concrete to the top of each step and the area above these.. Once this was all dry, we could then lay the marbe tiles going across the garden. The tiles were also laid on to the three steps and the path leading up to the garage.
Charcoal coloued blocks were laid around the marble tiles. creating a lovely border that made the patio stand out more. To the end of the patio, we did the same. In the middle of this, we laid grey coloured chips.
We were very impressed with how this marble patio turned out. It completely changed the look of the garden, certaintly adding value to the home.