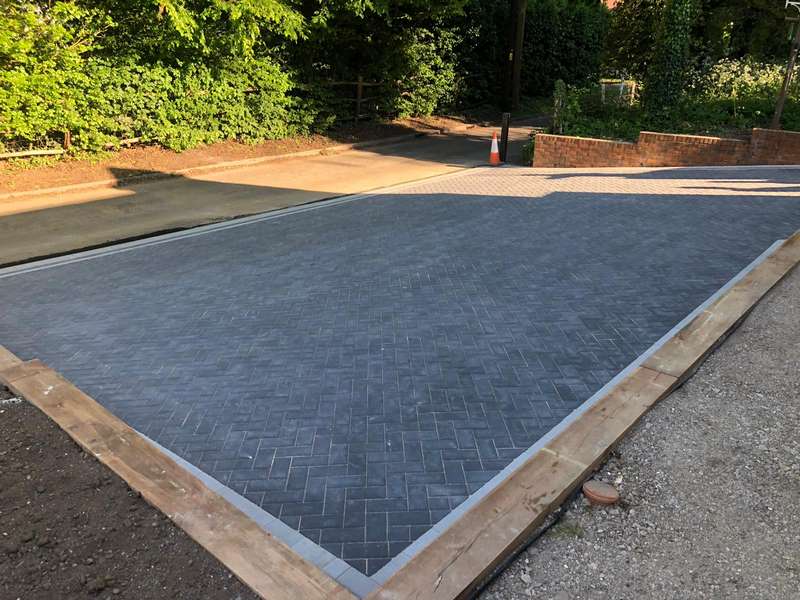 This next driveway project was a big one. Not only did our clients in Lancashire want a new driveway, they also wanted the rest of the garden to be landscaped so they could have new trees planted and laurels for the hedging.
We also needed to remove all soil pipes as these needed to be lowered and then the cesspit needed to be reconnected to the lower part of the driveway.
On the day that the project started, our driveway specialists from Stone Made Drives turned up on time, with all the machinery, materials and tools that were required to complete this project.
The whole front area was made from gravel and turf so we decided to keep the gravel there but dug up the area that was covered with turf. The area was levelled off. The area was quite big so it took a little while to remove it all. To separate the house from the driveway, we built a wall using wooden blocks to one side and then one in front of the house that was a few feet tall. The area within these would be block paved creating the new driveway. The area behind these would be filled with soil.
The soils pipes and cesspit were removed and positioned to where they needed to be.
We then laid a layer of sand to the whole area creating a base. Once this was flat, we could then start laying the block paving. Using grey coloured blocks, we started laying these in the desired pattern chosen by our clients.
Where the soil was laid to the other side of the driveway, we planted new trees and laurels which made the garden look more attractive.
Our clients loved their new driveway and said the whole front garden changed the appearance to their home.
If you would like to have your garden landscaped or you would like a new driveway, then contact our professional pavers today.