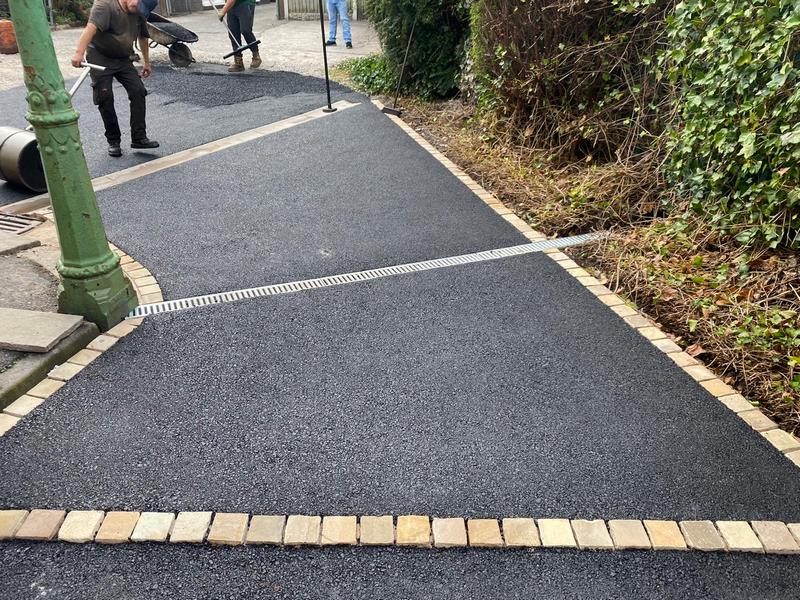 In terms of block paving, patios and driveways, little should be left to the imagination in terms of quality and reliability. This is why Stone Made Drives has been providing bespoke solutions to homeowners throughout Lancashire for well over 25 years. We are also pleased to offer a host of unique options for those who are satisfied with nothing less than the very best. One example can be seen in our resin-bound driveways.
What can clients expect to enjoy when consulting with our professionals? How are such projects undertaken? What are some of the main benefits associated with resin-bound surfaces. These are important questions and each deserves a closer look. The best way to appreciate what is in store is to review a recent project that was completed in Lancashire. You will then see why Stone Made Drives truly rises head and shoulders above the competition.
What is a Resin-Bound Driveway and What are Some Unique Advantages of this Material?
Before moving on to discuss the project itself, it is a good idea to highlight why resin-bound driveways have become extremely popular. This type of surface consists of a mixture of loose stones (known as aggregate) and an all-weather resin. The resin is used as a bonding agent; ensuring that the stones remain firmly in place once the material has fully dried.
Not only is a resin-bound driveway relatively easy to create, but there are numerous benefits which are not always available when referring to other surfaces. Here are some interesting qualities of a resin-bound driveway:
A kaleidoscope of colours are available
A UV-resistant compound within the resin will prevent these colours from fading over time
The aggregate provides a slip-resistant surface
Resin-bound aggregate is much less likely to crack when exposed to temperature variations
This material is porous, so drainage will not present an issue
The driveway is easy to clean and will require little maintenance
Resin-bound driveways offer a long lifespan and therefore, an impressive return-on-investment
We can now begin to see why resin-bound driveways represent interesting solutions to consider. So, how did we approach a recent project in Lancashire? Let's examine the installation process itself in detail.
Creating a Resin-Bound Driveway: One Step at a Time
As with any project undertaken by the team at Stone Made Drives, preparation is the key to success. Although an existing driveway was present, it was important that the surface was levelled. We also removed large debris and similar detritus so that the subsequent layers could be applied evenly. This stage involved a fair amount of manual labour and thanks to the relatively small size of the driveway, no larger machines (such as excavators) were required.
Laying the Aggregate Base
Once the surface was clean and level, we then created the base (underlying layer) of the driveway. The purpose of this layer is to provide support for the tarmac and resin that are applied at a later time. One unique aspect of this driveway was the presence of several angles. As opposed to laying down a single uniform subsurface, we chose to delineate these angles through the use of block paving stones as well as a channel that would allow water to drain away. During this phase, our team also removed a small peripheral sidewalk that was attached to a side of the house.
Compacting the Subsurface
As mentioned previously, ensuring a smooth surface is critical when designing every driveway. This is why we employed a small rolling compactor once all of the base aggregate had been laid in place. The use of a compactor also prevents any small gaps from forming between the stones.
Applying the Tarmac
The next step involved laying a base of tarmac. Tarmac is intended to provide a stable foundation for the resin-bound aggregate. This tarmac was used to fill in all of the driveway sections and it was subsequently flattened with the help of a manually operated roller to achieve a smooth and entirely uniform finish.
Finishing Touches
This final phase is when the talent of the team at Stone Made Drives rises to the "surface". Applying resin-bound materials requires talent and experience. Not only must the thickness of the layer remain consistent, but drying times need to be taken into account. Thus, the process is only undertaken by true artisans.
We first created a series of segments; the intention being to apply the resin to each of these in a specific order. This enabled us to track the overall progress. Please note that this is mostly a manual effort. It involves the use of rakes, trowels and similar tools. Another interesting observation to note is that the resin itself is mixed with the stone aggregate as it is being applied. Experience and a sharp eye are both needed in order to avoid any visual defects along the way.
Stunning End Results
For this project, we chose to use a light limestone gravel for the resin-bound aggregate. This provided the illusion of space while simultaneously working in synergy with the exterior walls of the house. Such a method of coordination helps to tie an entire property together while still offering a durable and hard-wearing surface. The resin-bound surface was likewise punctuated with charcoal block paving edges; further highlighting the aesthetics of the driveway itself.
Ultimately, the client was extremely happy with the outcome. We were able to completely transform the appearance of the property while simultaneously providing an aesthetically pleasing solution. Of course, this is only a brief overview of the steps required to create a resin-bound driveway. The exact techniques and approaches will vary between different projects.
Keep in mind that we offer additional options if you are looking to have a new driveway installed. These include:
Timely repairs and maintenance
Tarmac driveways
Concrete (including printed concrete)
Bricks and block paving
Associated elements such as walkways and kerbs
Drainage solutions
Furthermore, all of our completed projects are backed up with a rock-solid guarantee of five years. Customers can therefore remain confident that they are receiving nothing but the most innovative and durable solutions.
Would you like to learn more about our resin-bound driveways? We will be happy to schedule a free consultation at your convenience. We can address any questions that you may have while offering free planning and design suggestions. The bottom line is that you are always in good hands when working with the professionals at Stone Made Drives.
Please contact a representative.